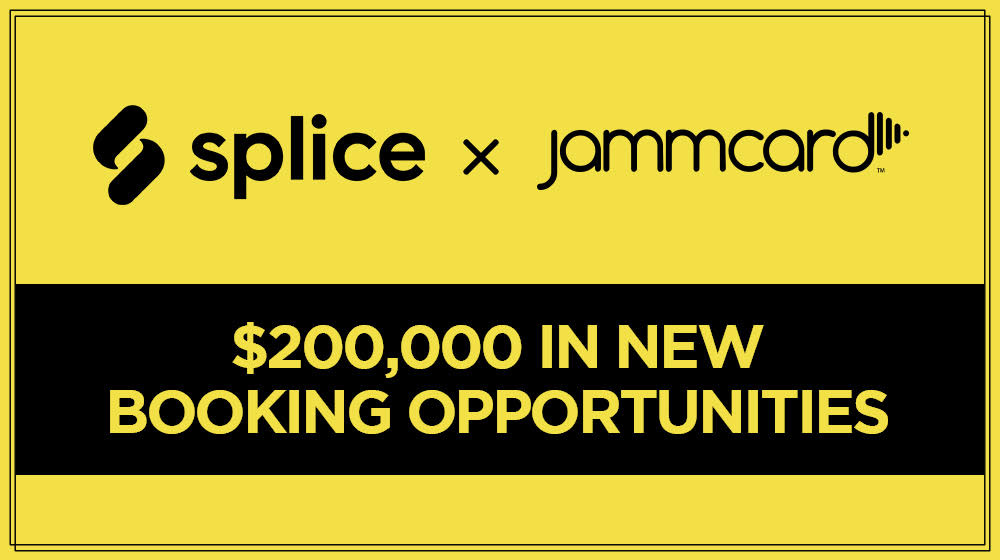 13 May

Splice commits to spend $200,000 booking musicians through Jammcard

We're excited to announce that we've partnered with Splice to create more revenue streams for Jammcard musicians. In addition to Jammcard Samples, our new sample label launched last month featuring packs by musicians from our network. Splice has committed $200K directly to Jammcard members through opportunities on Jammcard Booking. Read on to find out how to get involved.
Get paid to make sounds
Splice wants to work directly with Jammcard members to help fill gaps in its sample library. Record raw sounds and source material based on creative briefs from Splice to be processed into future sample packs and multi-sampled instruments. They'll be compensated with a flat fee. 
If you're interested in this opportunity and equipped to record yourself at home, fill out this form to apply. Splice will vet entries and reach out to interested artists as opportunities arise.
Get paid to show how you use Splice
Show your followers how you use Splice to write, improvise, and get inspired. The Splice team  is looking for instrumentalists, vocalists, and more to share posts about how they use Splice to create. New and creative ideas are welcomed. 
If you use Splice as part of your creative process and are interested in getting involved, fill out this form to apply. Splice will vet entries and reach out to artists directly.
We're proud to be partnering with a mission-aligned company on new ways for artists in our community to make a living with your art.