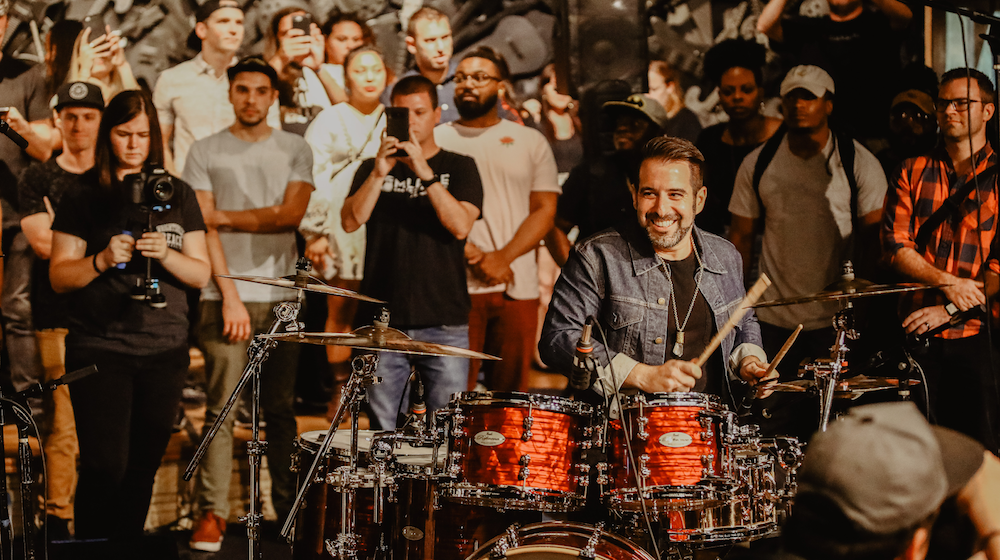 30 Aug

NASHVILLE LAUNCH RECAP

Posted at 16:37h

in

App

,

Artist

,

Band

,

Blog

,

Composer

,

Jammjam

,

Music

,

Music Business

,

Music City

,

Nashville

,

Professional Music Community

"Jammcard is exactly what Nashville has been missing; a thruline to bridge the genre gap. If 'Music City' is to live up to its name, it MUST cross-pollinate. It's about damn time."
– Audra Mae (Singer Songwriter) Avicii, Christina Aguilera

"Having Jammcard in Nashville is fantastic for our community in Music City. Events like the JammJam remind all of us that there are so many skilled players in so many genres here. In a town known for its songwriters and storytellers, Nashville's level of musicianship can often be overlooked, but I can't wait to see how this community grows with Jammcard's involvement."
– David Hodges (Songwriter, Producer) Kelly Clarkson, Carrie Underwood, Keith Urban

"Jammcard gives new hope and forward thinking to both old and new Nashville."
– Daru Jones (drums) Jack White, Talib Kweli

"Jammcard offers me a clear window into my own world. A perfectly simple platform from which to explore the unknown and reconnect with old friends. In my own community, I've personally witnessed its power to bring amazingly diverse groups of artists and musicians into the same orbit. Jammcard's potential impact upon the music industry as a whole is nearly incalculable. A truly inspiring thing is happening, here and now."
– Craig Young (bass) Elton John, Blake Shelton, Michael McDonald

Jammcard has successfully launched in Nashville. To celebrate, earlier this month we hosted one of our signature JammJam events at the Musicians Hall of Fame and Museum. The star-studded event was filled with some of Nashville's finest players, all in one room for a one-of-a-kind jam session experience.

Mike Hicks, keyboardist of Rascal Flatts, introduced the JammJam, saying "This is the best representation I've ever seen of what the Nashville music scene is in one place. It's kinda crazy that it took someone from out of town to bring Nashville together, but I'm so glad that he did."

Others from the community have shared their support as well. Ian O'Neill who plays drums in Lady Antebellum has been a member of Jammcard since it started in Los Angeles, and shared "[I'm] proud to have been on board with this juggernaut of a community from early on and am next level excited to finally have Jammcard in Nashville. Gone are the days of aimlessly searching for and trying to vet players for real opportunities. Now we have Jammcard." In addition, band members from Florida Georgia Line, Zac Brown Band, Kelsea Ballerini, and Jack White, have publicly shown their support.

Nate Rau of The Tennessean initially broke news of our expansion, reinforcing the praise stating "Nashville's music community is tightly knit, which will make the ringing endorsements of Jammcard from country music professionals especially meaningful."

The inaugural Nashville JammJam was a night meant for the session players, songwriters and music professionals of music city. Band members of Rascal Flatts, Jack White, Umphrey's McGee performed with an attendance including:

Andy Wood (guitar) – Rascal Flatts
Jim Riley (drums) – Rascal Flatts
Travis Tory (pedal steel) – Rascal Flatts
Mike Hicks (keys) – Rascal Flatts
Yankton Mingua (utility) – Rascal Flatts
David Hodges (songwriter) – Keith Urban, Christina Perri, Kelly Clarkson, Blink 182)
Daru Jones (drums) – Jack White
Ray Luzier (drums) – Korn
Matt Payne (Music Director) – Kelsea Ballerini
Aben Eubanks (guitar) – Kelly Clarson
Anna Renne (vox) – Kris Allen
Anthony Rankin (guitar/keys/banjo) – Thompson Square
Audra Mae (vox/songwriter) – Aviici, Kelly Clarkson
Anton Nesbit (bass) – LeAnn Rimes, India.Arie
Ayron Lewis (MD/ keys) – Kirk Franklin
Craig Young (bass) – Jewel, Lady Antebellum
Darius Mines (keys) – Jake Owen, Little Big Town
Derreck Phillips (drums) – Hank Williams Jr/ Michael McDonald
Eddie Robinson (guitar) – Florida Georgia Line
Rory Hoffman (guitar, keys, etc.) – Legend
J Bake (drums) – Mariah Carey
Jason Foster (MD) – Ludacris, T Pain
Keio Stroud (drums) – Big and Rich
Kris Meyers (drums) – Umphrey's McGee
Loren Clarke (MD) – LeAnne Rimes
Luis Espaillat (bass) – Trace Adkins
Maureen Murphy (vox) – Zac Brown Band
Nick Arbuckle (bass) – Kelsea Ballerini
Phil Moore (bass) – LeAnn Rimes, Mat Kearny
Robert Venable (producer) – Kelly Clarkson
Matt Menefee (banjo) – Big and Rich

We're excited to continue to grow and foster #JammcardNashville.