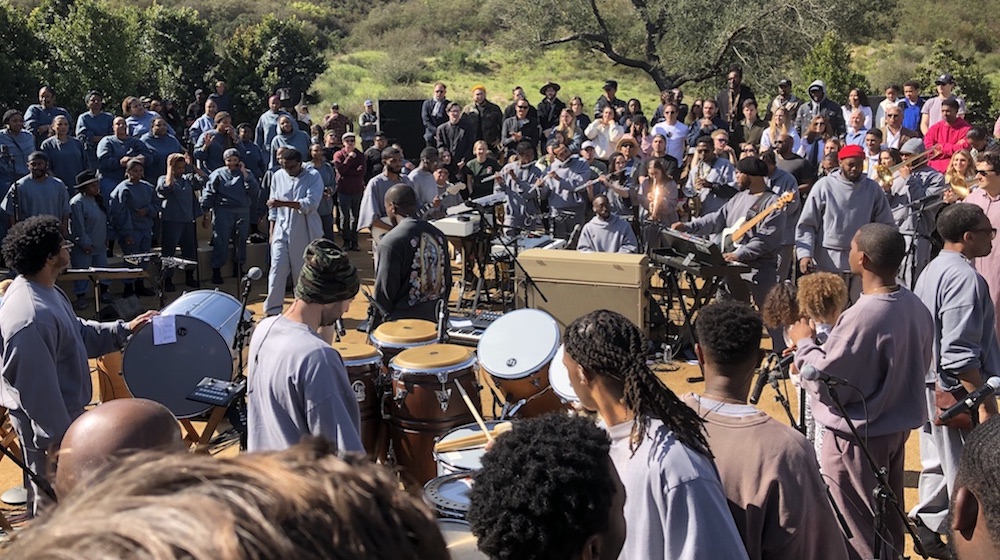 16 Apr

Kanye West's Sunday Session. The Band, the Choir, the Power.

Posted at 18:51h

in

App

,

Artist

,

Band

,

Blog

,

Coachella

,

Kanye West

,

Kanye West Sunday Service

,

Member Spotlights

,

Music

,

Music Business

,

Professional Music Community

,

Tech

Kanye West's Sunday Session has been an anomaly on the internet since mid January. What is it, where is it? No one seems to know exactly what's going on here. All we knew was that it looked amazing, and that we recognized several Jammcard members in the quick clips we were seeing.

Fortunately, Kanye's musical director for the Sunday Service, and Jammcard member, Philip Cornish, invited us to attend.

It took place at Kanye's studio in the forest of Calabasas. After crossing a bridge, it leads into a beautiful open forest with hundreds of acres of trees. In the middle of the forest, risers appeared with a bunch of our Jammcard members and friends. After 10 minutes of saying hello amongst an elite group of guests (Tyler the Creator, Katy Perry, Rick Rubin, Courtney Love, LA Reid, Babyface, etc.) the music started. The band and choir opened with a version of Beyonce's powerful chorus from "Lift Off" and built into a beautiful new Kanye song "We Have Everything We Need." Things really lit up when they went into a new arrangement of " POWER."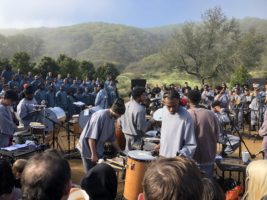 Click here to watch the performance of "POWER" 
The music went on for just over an hour and it was a truly incredible musical experience. After the show, we talked with Philip Cornish and asked him about working with Kanye on this project.
Phil: "You'll notice, Kanye doesn't really say much (at the service), he kinda just takes it all in."
Jammcard: How did this get started?
Phil: I got called into a session for the new album. It was last minute. I was on my way to another gig and then Kosine (producer) called me and said "Yo, I'm in a YE session, can you get here?"
I was literally on my way to a gig, so I called my friend and told him I had to pull out. My friend said "Man don't do this bro" and then I told him I got called for a Kanye session and he said "Yea, man you gotta do that." I went in and killed the session.
Then I got a call and they said Kanye has this new idea and he wants to do a Sunday Service with a choir, and I was like, "Is it a church" and they were like "I wouldn't call it a church, but it's church metaphorically speaking."
They asked me if he had any choirs, so I referred Jason White, who's someone I had always looked up to in the gospel scene. I was literally waiting for an opportunity to work with him.
Sometimes, you can't always wait for an opportunity to present itself, you gotta create the opportunity.
So I put a whole band together. We rehearsed for a whole day, killed it, learned the songs, made it work. Then YE walked in and said "Yo, unplug everything. I don't want synth bass, I don't want amps. I want an unplugged situation."
Then he sat down and broke his vision down. With YE, his mind is on a different plane. You gotta hear what he is saying and then you gotta translate it. He has his own language. Until you learn the language, you gotta interpret it. It was really supposed to be a one time thing. After the first one, Ye sat there and took it all in and then I realized he's doing this for himself. For his own personal reflection and inspiration. One week turned into two weeks, two turned into three, and then we created a movement. It's pure energy and music from a sincere and genuine place.
Jammcard: How would you describe the Sunday Service?
Phil: It's a listening session driven by inspirational renditions of soulful songs intended to uplift one another through music.
Jammcard: That's beautiful.
Phil: People see the clips. They see it's on Sunday morning. They think "oh he's starting a church."
But you can't just call it that. In his mind, metaphorically speaking, it is a church. When you look at the way church is an environment where you can come in and see upliftment and refreshment to carry you on your week. It's a beautiful thing to be a part of.
I was fortunate to be in the right place at the right time. A lot of people come to LA and make the mistake of not being patient enough with the process. They want it to happen so quick. But yo, LA is the place where you just have to be there. It's like OZ. If you can get here and stick around, whatever it is you're looking for, you can get it. This is where the sharpest iron is.
Jammcard: Gina Luciani said she was contacted for the gig on Jammcard. Do you find Jammcard a good resource for booking something like this?
Phil: Jammcard is a great resource. A lot of my homies were out of town. I met Matt Spatola through Jammcard. Jammcard legitimizes a lot of things. I've used it to reach out to people in situations, like I need a flute player. Where am I gonna find a flute player? Ahh yes.
I only knew one sax player that I knew and trusted, then I heard about this girl Kyla Moscovich who just moved into town, so the first thing I did was check to see if she was on Jammcard so I could take a look at her. Then she gets hit up from me asking if she wants to be in a horn section for Kanye West, right after she moved here.
I've sourced a few people from Jammcard, it's definitely the LinkedIn of the musician community. It's where I go to vet someone.
Jammcard: Did you take inspiration from the JammJam?
Phil: Yea. When Ye was describing it, I kept thinking to myself, "yea like the JammJam" in the circle and with everybody feeding off each other's energy. My experience with the JammJam immediately allowed me to relate and understand what he was trying to put in the visual.
The two coolest scenes happening in LA right now are Jammcard and Kanye Sunday Services. It's not open to everyone, and that keeps it pure, and that keeps it intentional. Everything isn't for everybody. Sometimes you have to hold it for the people that are truly gonna benefit from it or get what you intended from it.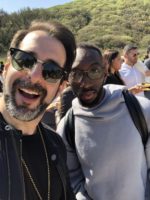 Click here to watch Elmo's JammVlog from Kanye's Sunday Session 
Here are the Jammcard members in the band and choir.
Philip Cornish – musical director/keys
Paul Cornish – keys
Rob Gueringer – guitar
Nick Clark – bass
Roland Gajate-Garcia – drums & percussion
Devon "Stixx" Taylor – drums & percussion
Rico Nichols – drums & percussion
Carlin White – drums & percussion
Carl Lemar Carter – drums & percussion
Pulpo Gajate-Garcia – drums & percussion
Gina Luciani – flute
Jacob Scesny – flute & sax
Lito Hernandez – flute
Kyla Moscovich – trumpet
Jordan Donald – alto sax
Marcos "Kosine" Palacios – alto sax
Corey Hogan – tenor sax
Cameron Johnson – trumpet
Lasim Richards – trombone
Lemar Guillory – trombone
Jason White – Choir Director (White Throne Productions)
Tiffanie Cross (vocals)
Olivia "Just Liv" Walker (vocals)
Cedric Jackson II (vocals)
Chelsea Miller (vocals)
Alexandria Threat-Arowora (vocals)
Juneau Lake (vocals)
Ashley Nichol (vocals)
Nikki Grier (vocals)
Sunday Service will be gracing Coachella this Easter Sunday, April 21st at 9am. It will be a truly special moment in music.