26 Jan

Jammcard Mentors: A music mentor marketplace offering online mentorship sessions with music's leading pros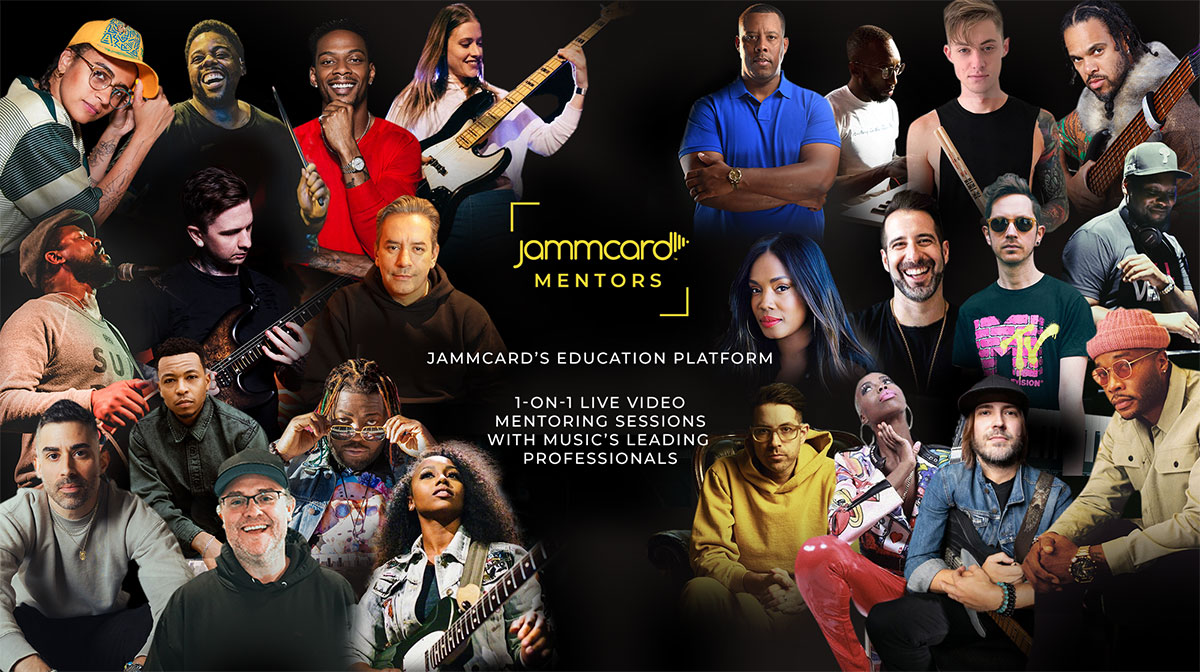 A network of vetted music professionals comes with many benefits –  like a centralized online platform where one can network, land gigs, and get paid. But the most valuable part is our supportive community of music pros, hard-working dream-chasers who've experienced the ups and downs of working in one of the most competitive industries, and are willing to share their experience.
When we thought about our own journeys in this industry, we realized how important it was for us to have someone to look up to, who can offer advice on which steps we should take (and which ones to avoid) to achieve our goals. But getting access to music professionals who've "made it" in the industry isn't easy.
"Getting access to music professionals who've 'made it' in the industry isn't easy."
Introducing Jammcard Mentors
This is why we created Jammcard Mentors, a music mentor marketplace offering 1-on-1 live video mentorship sessions with music's leading pros. Our Mentors represent a roster of handpicked professionals with decades of experience who are ready to help you navigate your career and develop your skills.
We're proud to launch this platform with a stellar lineup of Mentors, and we're adding more experts to the roster every week. Some of our founding Mentors include:
Who can book a Mentor session?
Anyone in the world can book a session with a Jammcard Mentor. You don't have to be a musician – or even work in the music industry – to be a mentee. Many of our Mentors have knowledge and expertise in business, marketing, branding, strategy, start-ups, and community-building. Whatever your objective is, a Mentor can offer valuable insight to take your skills and career to the next level.
Access Mentors from anywhere
Mentorship sessions are hosted on our built-in video platform, making the experience simple, seamless, and accessible to anyone in the world with access to the internet.
A roster of music professionals covering a wide range of skills ensures you'll find a Mentor that can help you achieve your goals. Jammcard Mentors are highly vetted and relevant music professionals who've achieved rare successes in the music industry. All Jammcard Mentors are handpicked by the team at Jammcard, and they represent decades of experience in their areas of expertise.
Talk to your Mentor about:
Songwriting tips
Production or playing techniques
Navigating the music industry
Track feedback
Growing your brand
Landing gigs
Self-representation
Networking and more
Jammcard Mentors are major players in the game, but at one point in time have gone through similar experiences that you're going through. They'll open you up to unique approaches to common challenges, and give you the tools you need to innovate and create the same way they have.
"Being a Jammcard Mentor allows us as music professionals to give high quality advice at just the right time – whenever you need it."
-Andrew Bolooki (Lil Nas X)
We're changing the way people face the challenges of working in music by providing access to an exclusive community of music professionals who achieved rare successes in the industry.
You may be a music professional who wants to get to the next level in your career, a beginner who isn't sure how to get your foot in the music industry, or a creative entrepreneur looking for a unique perspective on building your business. Mentors offer expert advice tailored to your goals and objectives. Just one chat will leave you inspired and ready to take the next step in your creative journey.
"Having someone so knowledgeable and experienced in the industry, like Aaron Spears, be so accessible and helpful is a huge opportunity for anyone wanting to make it in the industry."
-Anthony L. (Boston)
Learn more about Jammcard Mentors and book a session today.
If you're interested in becoming a Jammcard Mentor, connect with us here.