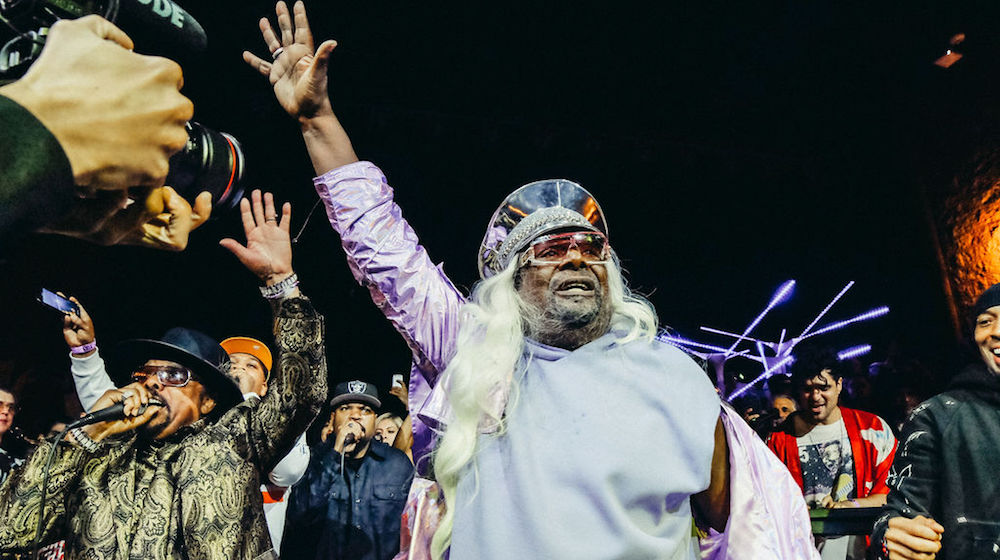 14 May

Jammcard Celebrates George Clinton & Parliament Funkadelic at the JammJam with Ice Cube, Anderson .Paak, CeeLo, Flea and more …

The JammJam celebrating George Clinton and Parliament Funkadelic was epic. George, the man who invented P-funk, was in attendance to witness performances by some of his best-known acolytes including Ice Cube, Anderson .Paak, CeeLo Green, Eddie Griffin, DJ Battlecat plus members of the original Parliament Funkadelic, and even George himself. "They had me crying like a bitch with tears of joy." Clinton said after the event.

VIDEO: George Clinton, Ice Cube, Parliament Funkadelic, DJ Battlecat and Elmo Lovano at the JammJam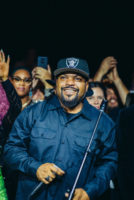 Ice Cube at the JammJam
At one point, Ice Cube jumped into the JammJam circle and performed "That New Funkadelic" with Flea, Eddie Griffin, Dallas Austin, George Clinton and the original Parliament Funkadelic all dancing and singing group vocals. Anderson .Paak joined in after that and improvised over "One Nation Under a Groove" and then went over to the drum set and traded grooves with drummer sensation Eric Moore.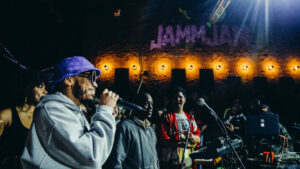 Anderson .Paak, Jae Deal and Eric Zayne at the JammJam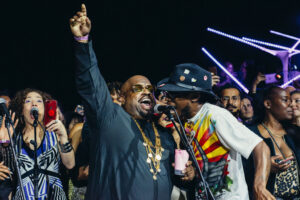 Kendra Foster, CeeLo Green and Garrett Shider (Parliament Funkadelic) at the JammJam
VIDEO: Anderson .Paak, Eric Moore and Elmo Lovano from the JammJam
Some more Jammcard members jumped in to play as well, including Stanley Randolph (Stevie Wonder), Ari O'Neal (Beyoncé), Nisan Stewart (Missy Elliott, Jamie Foxx, 50 Cent), Jae Deal (Janet Jackson, Elton John), Lynette Williams (Childish Gambino), Gorden Campbell (Earth, Wind and Fire), and Elmo Lovano (Jammcard's founder/CEO). Many of the incredible women from the Parliament Funkadelic camp jumped up to sing lead vocals as well, including Joi Gilliam, Kendra Foster, Tonysha Nelson and Patavian Lewis. Garrett Shider (the son of Starchild) got up and sang a version of his father's Parliament tune "Getting To Know You" that brought George to his feet. The BBC (the first band to ever play the JammJam) closed out the tribute with "Lets Take It To the People."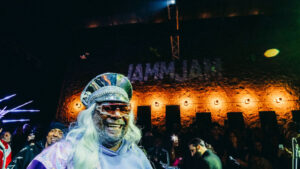 George Clinton smiling at the JammJam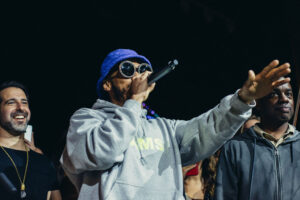 Elmo Lovano, Anderson .Paak and Jae Deal at the JammJam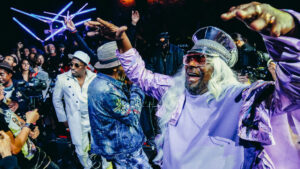 Eddie Griffin, Parliament Funkadelic, and George Clinton at the JammJam
Other notable people getting funked-up included Flea, Thundercat, Flying Lotus, Rance Dopson, Lynn Mabry, V. Bozman, Dallas Austin, Ronald Bruner Jr., Aaron Spears, Blaque Dynamite, Taku Hirano and actor Guy Torry, who were treated to Hendricks cocktails, Kona Brewing Co., Graef wine, Moet and Core water with official sponsors Westlake Pro & Avid and supporting sponsor peermusic.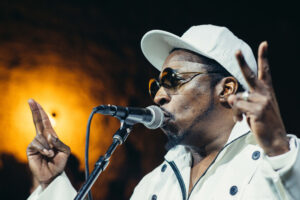 Eddie Griffin improvising at the JammJam
A special thank you to Jae Deal, Spaced Out and George's family for producing this event with us and helping to make the night memorable.
Congratulations to George Clinton and Parliament Funkadelic on receiving the Grammy Lifetime Achievement Award! Thank you for asking Jammcard to create and curate this event to honor George in the right light.
All love.
Click here for the photo album from the JammJam with George Clinton & Parliament Funkadelic