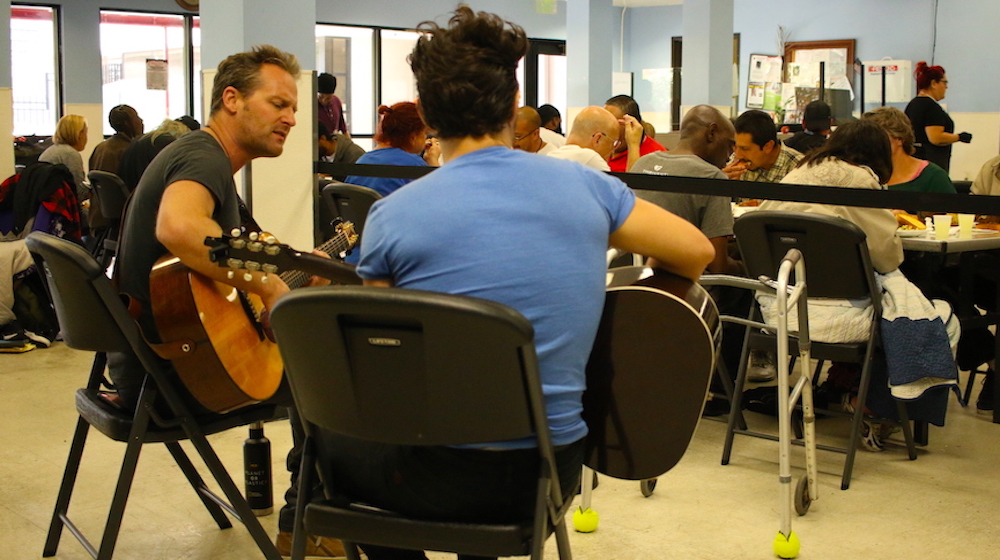 23 Oct

Jammcard Brings Music & Dessert to Union Station Homeless Shelter

"To tell you the truth, it made me forget where I was. I don't get many days like this."

At lunch time on October 10th. as residents of the Adult Center, a 56 bed transitional housing program took their places to eat, Jammcard members Marcus Eaton and Christian Paul Meadows sat with guitars and brought music to an ordinarily quiet cafeteria. 

This was the first installation of Jammcard's Music & Dessert program, which aims to bring joy and dignity to people who are experiencing homelessness, by way of live music and dessert. The program was made possible in partnership with the trendy Los Angeles diner Kitchen 24 as well as the organizers at Union Station. 

Dana Bean, Senior Director of Development and Communications at Union Station has been working with this community for just over 13 years, and was excited to see an event like this take shape.  

"I think music can be healing and it can create community." said Dana. "Not only will the residents enjoy it but I think they'll feel really special that people took the time to come and play for them."

The idea for Music & Dessert came from Head of Operations at Jammcard, Jack Piatt, who's dedication to serving his community made him think about how the Jammcard platform could provide a unique experience for those who are experiencing homelessness. 

"Through my time [working with people experiencing homelessness] I learned that what seemed to matter most to the people I encountered was dignity. Each person I've come in contact with wanted to be seen. They wanted to feel human. The other thing I noticed when passing out food was that eating becomes more about survival and not a celebration of food, which makes sense based on the situation. So I thought, what if we could create a program that brought dignity to people and a bit of joy as they eat?"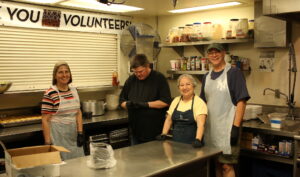 The concept was well received by Union Station. Jammcard used it's network to sign on musicians to the program who felt connected to the idea. 
"The musicians are sharing their music because they truly care about what the shelter guests are experiencing," Jack said. "After seeing the program in action this past week, I was thrilled to see the idea was effective. When we looked around the room, I saw a change in the energy. We witnessed joy and it was beautiful."

Some of the residents at Union Station weighed in on how the event had an effect on them personally. 
"To tell you the truth, it made me forget where I was. I don't get many days like this." said Hugo Zabala.
Gilbert Ortego also shared his thoughts: "This is a great thing. It's joy for everybody here. I appreciate music because it's one of the values we share as human beings. It can take you somewhere else, to a place of joy." 
While the purpose of Music & Dessert is to serve those who are experiencing homelessness, it should be noted that the musicians who perform are also deeply affected by the experience. 
"At first I was reflecting on the fact that those I was playing for have found themselves in this extremely difficult position of being homeless," said Marcus Eaton, who is currently on the road with David Crosby. "It makes me feel upset and frustrated that they have to live this way. Then of course, it also made me feel very fortunate and ultimately brought me right back to the music. Music is translation of emotion and I saw the smiles of people there as Christian and I were playing. It made me really happy to see that we transported them to a different place, even if it was brief. This is the power of music and I feel fortunate to be able to do this."
For Christian Meadows, it was special for him to witness how much the staff at Union Station does every day to provide for people who are in this situation. 
"They are the true heroes of the day," Christian said. "They house, feed, and care for homeless people in the community and watching them in action inspired me. It was a privilege to come and entertain the people and bring some joy to their lives in that moment. It has inspired me to do much more and I plan on helping out in the future any way that I can."
Associate Director of Development and Events, Gina Long, feels that Music & Dessert does its job in creating an inclusive and positive atmosphere for people coming from all walks of life. 
"I think music is a universal language," Gina said. "Where we can't meet in one place, we can meet in this place. Music will bring out the best in the residents and it will also bring out the connections that we have with one another. And who doesn't want dessert? It's a wonderful combination of things to give to people who don't necessarily have the option to go and listen to live music, and who don't always get dessert."
Jammcard plans on growing the program to include more shelters throughout Los Angeles, eventually with the goal of expanding to other cities as the company continues to grow. 
"Seeing an idea come to fruition is always a wonderful thing," said Jack, "especially if it's an idea that serves other people."
If you would like to learn more about Union Station Homeless Services or to get involved, please visit: https://unionstationhs.org/ 
They welcome all kinds of help and will put your talent to use. If you're a Jammcard member who would like to perform at a future Music & Dessert event, contact Jack Piatt or Christian Paul Meadows in the Jammcard app.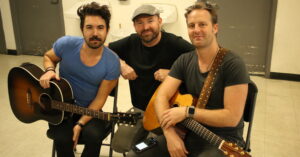 Left: Christian Paul Meadows  Middle: Jack Piatt  Right: Marcus Eaton
By Charlie Weinmann