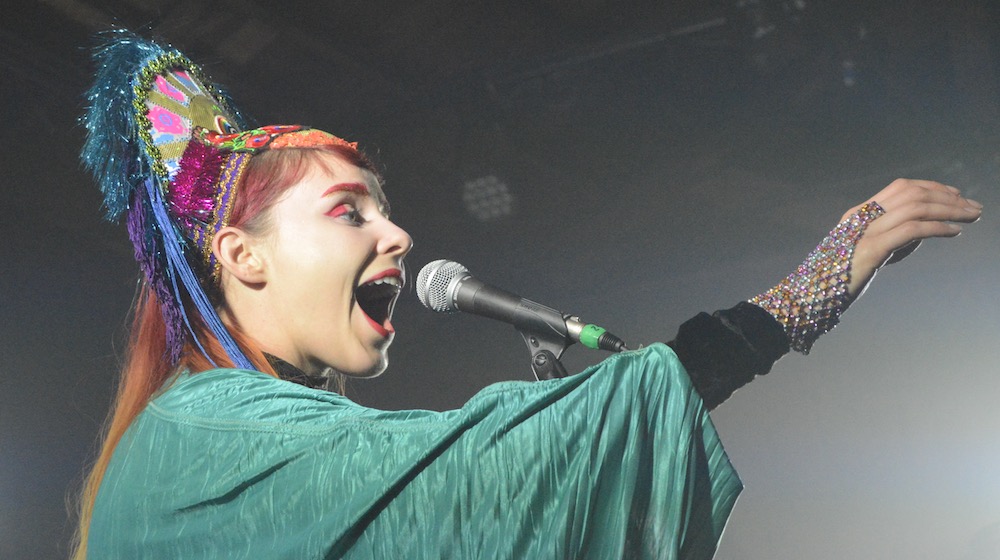 06 Mar

GIRLSCHOOL 2018 WAS THE REFRESHMENT EVERY WOMAN NEEDED

Editorial by: Elizabeth Hsieh

Every time I attend a concert or a festival, I am enthusiastic to see a woman fronting the stage. However, this excitement is a little unsettling. Shouldn't seeing women in their performative space be the norm? Shouldn't it be so banal that I don't think twice about it? Typically, with only a minor percentage of festival lineups, such a small demographic of femmes occupying the stage isn't exactly an industry welcome mat. With the representation box checked off with only a handful of female acts, for festival attendees, there is no real sense of belonging as the odds seem as if they are stacked against the supposed 'minority' of musicians. In this sense, a lack of femme representation is like a disease that is entirely self-perpetuating.

This is why GIRLSCHOOLLA was created. From February 2nd through the 4th, GIRLSCHOOLLA hosted their third-annual weekend-long event, described as a "music and ideas festival with a mission: to celebrate, connect, and lift women-identified artists, leaders, and  voices", at the Bootleg Theater.

In a time where social reform means wearing a different color ball gown and placing a hashtag at the end of a sentence, GIRLSCHOOL founders Anna Bulbrook and Jasmine Lywen-Dill had a vision to make the festival a step towards visibility for all female identifying individuals. In 2018, we must now think of inclusivity in a genuine and profound way without making it about quota-filling, superficial in the name of diversity, or satisfying the guilt of men. In Los Angeles, it is not uncommon to see the idea of booking "girls in a band" become a marketing ploy and an attempt to satisfy voices calling for diversity rather than genuinely questioning the structure of male domination in place.

However, this women-led festival is not just about tokenizing women or capitalizing on their marketability, it's about giving women a space where they can feel safe to create and wear their hearts on their sleeves. From the sound engineering to the booking, it was a breath of fresh air and a little bit shocking to see only women controlling the stage.

There is something unique about having each and every part of the festival controlled by someone who understands the day-to-day of womanhood and is adamant on breaking barriers set before them in the music industry. Particularly, when a woman is in control of every part of another femme's performance, there is an air of kinship, camaraderie, and mutual understanding that happens beneath the surface. For the audience, the show is flawless—you see the artist glowing in their element amongst like-minded individuals who only hope to see them succeed.

In this case, when the men took a back seat, it was made entirely clear that women,    despite their social capital of being 'trendy', have very little representation in this industry.

From keynote conversations featuring Carrie Brownstein (Sleater-Kinney, Portlandia) and poet/author Morgan Parker to performances by artists such as Jay Som, Chelsea Jade, and Karen O, GIRLSCHOOLLA has proven to be diverse in its music selection as well as its performances. In its inception, the festival primarily focused on the musical aspect. However, now there is a large emphasis on workshops regarding gender politics and social reform as the current political discourse grows ever more dire. In this way, GIRLSCHOOL sought to provide a wide platform for marginalized voices to speak bravely and openly about their struggles.

In addition to the workshops, the music selection was purposefully diverse—allowing for an array of artists to demonstrate their unique abilities on stage. From the high-energy beats of rapper Leikeli to the peaceful ingenuity of harpist Low Leaf to the celestial rhythms of Moon Honey, GIRLSCHOOLLA offered something for everyone.

This year, it felt like a place where people could safely open their minds and their hearts  to others without threat of fear. It was a breath of fresh air that we didn't even know we needed.