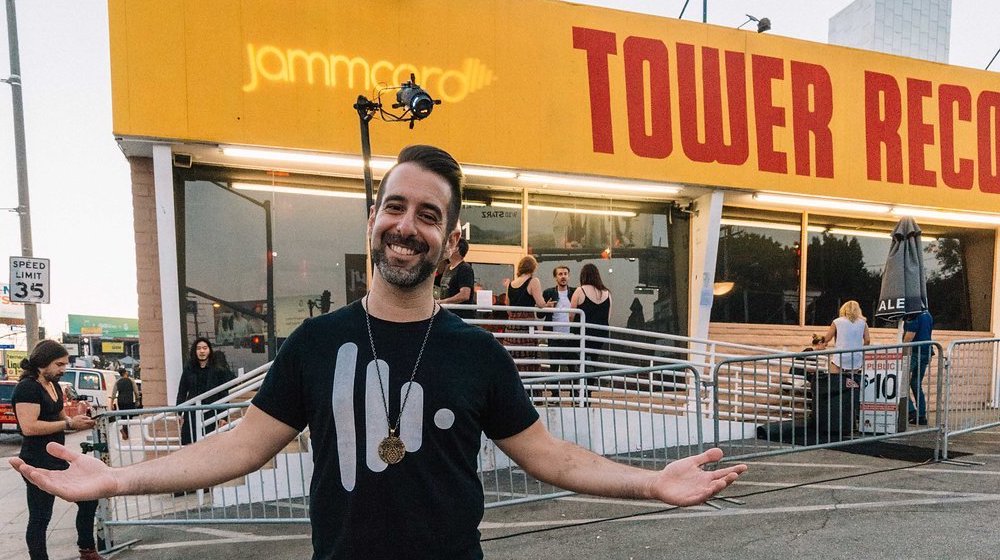 10 Oct

ELMO TALKS ABOUT TOWER RECORDS

This past August, I was at an industry mixer at the Sunset Marquis Hotel thrown by music industry connector Tyler Barth.  Earlier that week, I had thrown a JammJam up at the Jammcard house (The Alchemy Castle) which attracted 500 people.  That's great and all, except the neighborhood can't handle that much traffic.  The crowd clogged our street, our neighbors couldn't get home, and as a result the cops came together with the neighborhood council and made it clear that we could never do this again.  There was a strong demand for the JammJam, so I wanted to find another place to host it.  As I'm sipping a sparkling water by the pool of the Sunset Marquis, Tyler introduces me to Peter Leinheiser from Gibson.  Peter is clearly a legend.  We start talking about Jammcard (he had heard of it) and then I showed him a video from that last JammJam at my house.  His eyes lit up "This is exactly what the music industry needs!" Peter says.  "You should bring the JammJam into Tower Records and fill that legendary room up with this scene!"

My initial thought was "WHERE DO I SIGN" but I didn't want to get too excited.  So many people promise so many things in this town, and most don't happen.  Luckily, I am one who pursues and is persistent.  I followed up with Peter over the week, scheduled a meeting with the Gibson team at the Gibson Showroom in Beverly Hills (everyone there was very kind and supportive) and we locked the deal!  They asked "When do you want to do this?"
I said "August 22nd."
They said "That's 10 days away.  We were thinking you'd need until like October."
"We work fast" I said.

I was stoked.  Tower Records is incredibly significant to me.  I've grown up in a very musical family. My dad plays guitar, and he used to sell plants to the clerks at that Tower Records way back in the day.  So I knew that my family would be excited, and I had a good feeling that the Jammcard scene would as well.

There were a lot of logistics to set up, but the fun part was, who is gonna play? I instantly thought of the Brandon Brown Collective aka TheBBC. TheBBC is a collective of some of the best players in LA; playing with everyone from Stevie Wonder to the Jacksons to Diddy. Most of the members are on Jammcard. I called up Brandon Brown, he then called all 12 members of TheBBC, and an hour later it was locked.

Setting up the JammJam's can be a lot of work on the logistical side, but on the creative side, it's been nothing but a dream.  725 people ended up coming out to Tower Records (now called Gibson Brands Sunset) for the JammJam, with no press or promo.  Just one email to the Jammcard members list.  We partnered with Gibson and Remo for the event, and YouTube to create VR180 videos with their brand new video technology. Today, I'm happy to present to you The Brandon Brown Collective, live from the JammJam at Tower Records, in brand new VR180.  I hope you enjoy it!